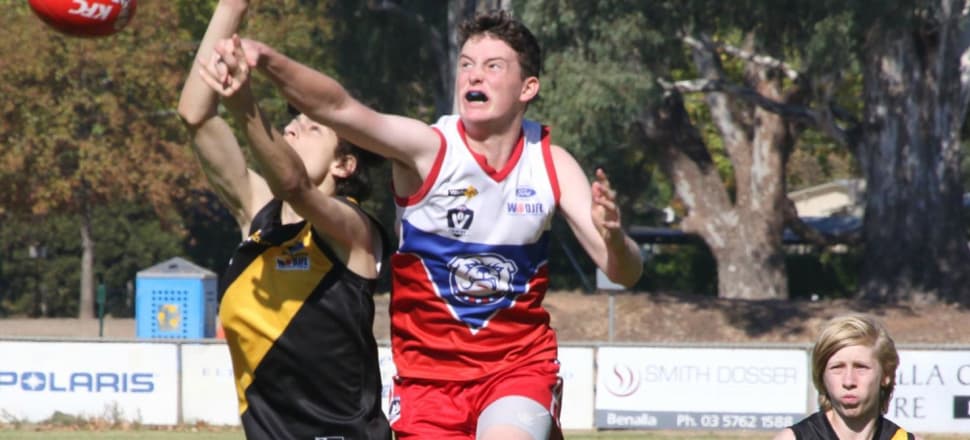 5370537724001
Impressive wins
Benalla Bulldogs and Giants under-16 teams recorded impressive victories over their Wangaratta opponents during the weekend.
At the Showgrounds on Sunday, the Bulldogs bounced back from a loss against the Giants to record a 96-point victory over the Wangaratta Tigers.
After an even first quarter, the home-side kicked six goals to nil to open up a 40-point lead at half-time.
The goals continued in the second half, with the Bulldogs running out comfortable winners.
Chelton Orchard was damaging through the midfield, as Oscar Major, Aaron Cooke, Regan Williams, Matt Knight and Charlie Wright-Fry were the best for the Doggies.
Keen to continue their good form, Giants went into their match against Wangaratta Imperials with plenty of confidence.
After quarter time the Giants put in a much better performance and during the remaining three quarters clawed back the deficit to come away with a hard-fought win.
Ben Wheeler was the Giants best player, supported well by Josh Milner, Jesse Walker, Charlie Gander, Rory Wapling and Tom Levy.
The final score saw the Giants 10.5.65 beat the Imperials 6.12.48.
Under-14
In the under-14 matches, the Bulldogs fought hard against the Tigers, and after trailing by five points at half-time, went down by nine.
In an improved performance, the Bulldogs were led well by Charlie Bull (four goals) and Will Stickland.
The Giants found the going tough against a stronger Imperials side, as Charlie DeWinne kicked the Giant's only goal for the match, as the Imperials ran out winners by 94 points.
Ace Manger, Charlie McCarthy, Max Cullen, Mason Ring and Tyler McGregor were the best players.
Under-12
Under 12 matches during the weekend saw a come-from-behind two-point victory by Benalla White.
After trailing at every change, White kicked the last two goals of the match to win.
Riley Ely kicked two, while Rory Sammon and Sam Cox each kicked one.
Cooper Gracie, Baily Dervish, Dylan Pastuszka and Jesse Liddington were the best players.
In the second match, Benalla Red went down to Wangaratta Imperials by seven points at Wareena Park.
Best players were Montell Macfarlane, Campbell Drury, Cooper Button, Tom Binion, Charlie Burfield and Robert Hoffman.