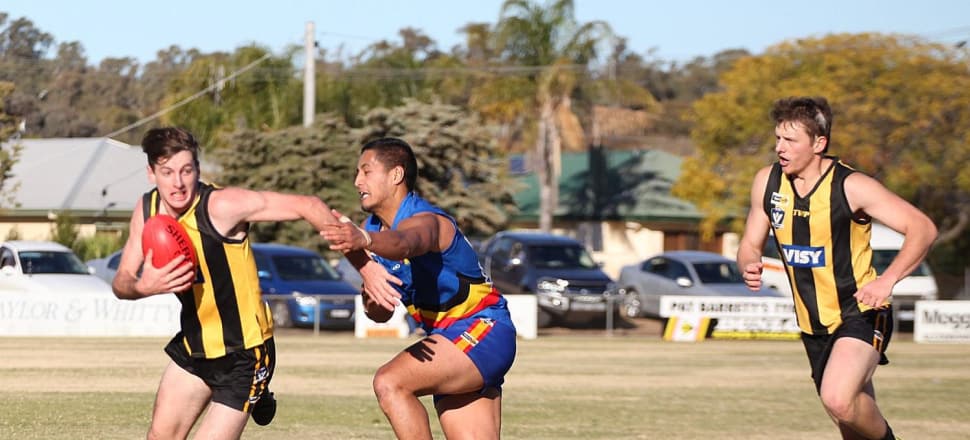 5370537724001
Cobram fell agonisingly close to arguably its gutsiest win of the season, going down to Rumbalara by eight points in a game that was the epitome of a good old-fashioned arm wrestle.
What would have been most painful for the Tigers to swallow was the fact the game really should have been out of sight and out of my mind by quarter-time.
Cobram moved the ball as effectively in the first stanza as it had done all season, but could not translate its dominance into a lead that should have been bigger than 20 points at the first break.
As is so often the case in modern football, if you fail to put the opposition to the sword when you have your chances, it invariably finds its way back into the contest, and that is exactly what Rumbalara did.
Back in the game after being overpowered early, Rumbalara stepped it up notch in the second term to kick five goals to Cobram's two.
Marlon Johnstone began influencing the game on the outside of the contest for Rumbalara and kicked some classy goals to help his side rediscover its mojo after a sluggish start to the game.
The second half was a scrap as both teams looked to negate each other's ball movement.
Much like the first term, the premiership quarter proved costly for Cobram as it only managed to kick 1.4 in front of goal, despite having the momentum for large chunks.
With Rumbalara leading by two points at the final change, Cobram needed to lift in the last and did so thanks to a big goal from Sam Beasley.
But in the end Rumbalara had the answers when it mattered most, winning 11.8 (74) to 9.12 (66).
Considering Cobram was missing key players Cadeyn Williams, Alex King and Jack Wilson, it was a brave effort against a team that will challenge the better sides in the competition this season.