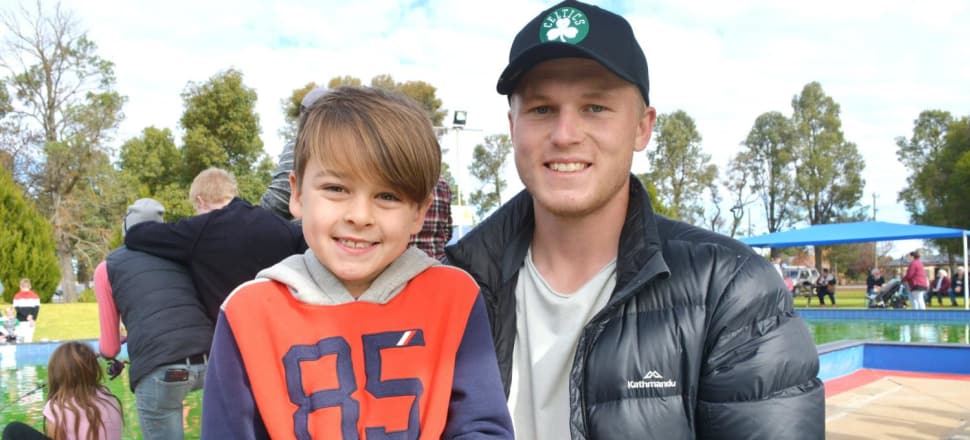 5370537724001
Rainbow trout was on the menu Sunday night, after 150 anglers turned out for the first Berrigan Big Fish Out.
The War Memorial Pool was buzzing with families taking part in the unique experience of catching fresh fish from a swimming pool.
Despite more than 200 trout being confined to the pool and more than 20 rods in the water at any given time, the fish did not seem to be biting.
One of the special golden trout was caught almost instantly in the morning session before fishing slowed, with 40 trout removed from the pool by the end of the day.
Each fish caught added to the fundraising to help cover costs of operating the pool.
For the lucky anglers who snagged a trout, they were able to have their prize prepared and ready to take home later that night.
The remaining fish are being held by the organisers, who may host a similar fishing day in coming weeks.
Organiser Gary Lehre said they are yet to officially discuss what to do next.
''We're open to suggestions,'' he said.
''There's a possibility we could keep the fish here for a couple of weeks and invite the community along again to have another try.
''It was really good to see young kids and their families from across the region supporting the pool and the concept.
''A man in his 90s that came along with his young grandson, which was fantastic.
''This place (pool) is empty during the winter so it's good to utilise it.
''Nothing like this has happened before in the area, and I think Berrigan wants to show what it can do as a town.''
Even though the fish weren't biting, anglers and spectators did not go hungry on Sunday.
Pool volunteers served Devonshire tea throughout the day and a barbecue lunch.
Mr Lehre thanked the pool committee and volunteers who helped out on the day.