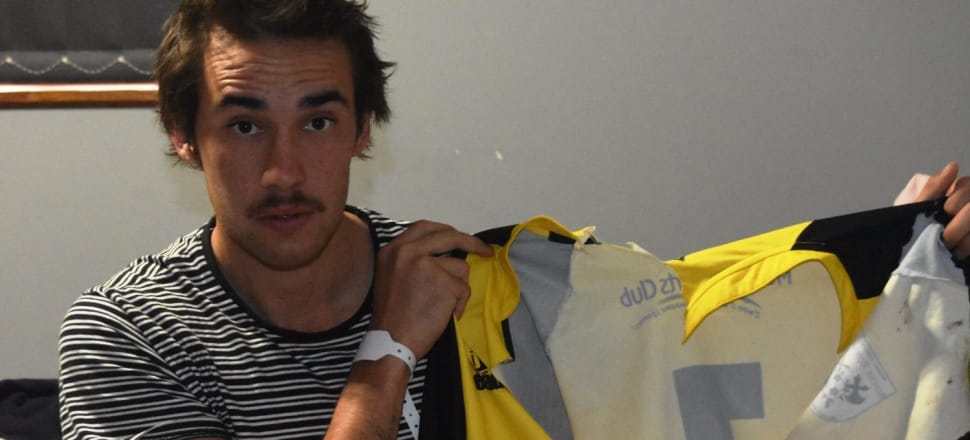 5370537724001
TJ Callander was the hero of the Border Raiders dramatic 3-3 tie with top side Tatura — he just doesn't know anything about it.
After scoring the opener for the Raiders, Callander was put in goals after gloveman Rob Foran was sent off for a foul on a Tatura striker.
Just before half-time, with the Raiders 2-0 up, Callander rushed out to contest a cross, and collided with a Tatura striker – he was out cold before he hit the deck.
But he had also saved the goal and that would prove crucial on the day.
"My centre half Bill (Glentzes) was covering their striker, and I just remember seeing the red back of the Tatura player's shirt. Next thing I knew I was coming to on the ground, coming back to my senses," he said.
The game was stopped while Callander received treatment, first from a doctor and a nurse in attendance at the match, and then from ambulance staff, who took him to Echuca Regional Health.
"They said I lost consciousness for about a minute. They didn't want to move me and that worried me," he said.
"Thoughts go through your head when they don't want to move you and keep your neck still and things like that – all the scary stuff."
Callander said his first memory after waking was not being able to move. He lay still and tried to regain feeling in his fingers and legs.
"There was pain in my neck and that's what everyone was worried about, and the people at the hospital were too," he said.
After spending the afternoon under observation, including CT scans and regular checks from medical staff, he was released at 9pm on Sunday.
"I'm off work, sport, everything. The doctor said it'd probably be two weeks before the pain completely goes. I'll just play it by ear, but this week I'm definitely out of football (Callander also plays reserves at Echuca United) and soccer," he said.
There was one positive Callander said; the incident had brought the club together as one, with messages of support flooding in from teammates and supporters after the match.
"That's credit to the club. It shows the direction that the club is heading.
"We had calls from parents, players and their girlfriends too. And Tatura put up a post on their Facebook page wishing me a speedy recovery and things like that, so a massive thanks to them too.
"It's a bit of a cliché but the saying is 'when it's your turn to go, you go'.
''It means that all those balls you don't really want to go for but you know you should, then you do.
"And I think with my injury, hopefully the next time one of our boys is unsure about a 50-50 header, they'll go for it, because they'll want to do it for the team," he said.