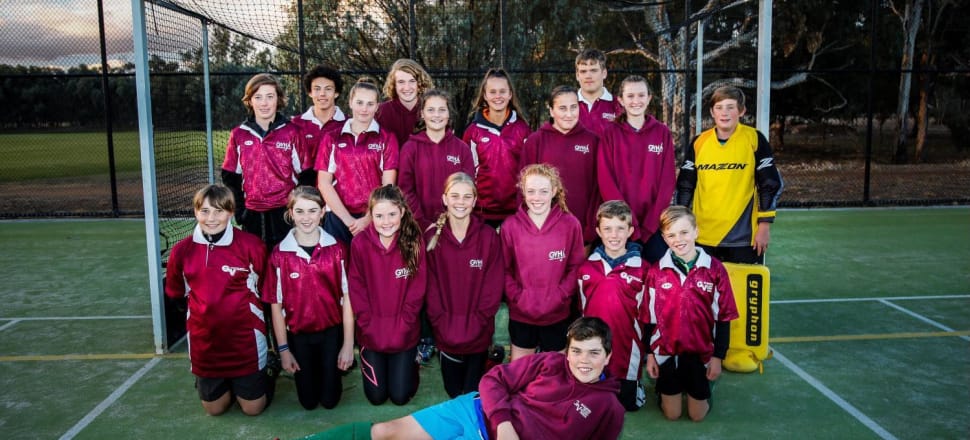 5370537724001
ECHUCA Moama Hockey Club travelled to Shepparton Saturday.
Echuca U12s started the day continuing their unbeaten season with an exciting 4-3 final score against Mooroopna.
EMHC was in attack early with some great team efforts, scoring through excellent finishes with one goal each to Ryan Said and Will Kerr.
Mooroopna's attack was hindered by Jasmine Stingal, Olivia Mathers, Makayla Pendleberry and goal keeper Jye Berryman's strong defence.
The second half saw Mooroopna produce attacking hockey. Echuca's Keira Stingal and Ryan Said still kept the scoreboard in Echuca's favour with some timely defence.
Leah Kerr and Olivia Mathers worked well together on the forward line with Olivia scoring two goals, with plenty of support from strong runs by Leilani Cartledge and Nash Berryman.
Echuca's midfielders had to work hard up and down the pitch with numerous opposing attacks Piper Reardon, Lucas Jettner and Will Kerr covering each other.
Goals scorers were Olivia Mathers (two), Ryan Said and William Kerr.
Umpire votes went to Jasmine Stingel, William Kerr and Keira Stingel.
After a loss to Mooroopna a few weeks ago, the under 14 team wanted to put a score on the board early.
Kade Steenhuis passed the ball forward to Isabella Ferguson wide on the wing, a combination from Tess Harvey, Haylee Greenman and Ryan Said's saw Isabella Ferguson have a shot on goal that was saved by the Mooroopna goal keeper.
EMHC kept the ball in their attack rewarded with a penalty corner.
Lucas Kell pushed out to Keeley Thompson, the ball stopped cleanly, she laid off into the path of Sam Lowndes' strike, the ball found the back boards putting the Echuca side on the score board.
Jye Berryman took a free hit, delivered the ball to Elyse Kerr who went wide to Ryan Said, he centered the ball to Kade Steenhuis, his shot was saved by the goalie.
Mooroopna continued to press and the EMHC defence worked hard to keep them out.
Goalkeeper Scott Park kicked the ball clear with Echuca moving well into attack, but Mooroopna foiled their attacking attempt and returned the ball into Echuca's defensive circle scoring to level the score 1-1.
Mooroopna came out strong after half time and earnt themselves a short corner.
EMHC's defensive team of Scott Park, Lucas Kell, Sam Lowndes, Keeley Thompson and Haylee Greenman stood firm, clearing the ball out safely.
Sam Lowndes then stood up and scored two brilliant field goals.
Leah Kerr was next to score, she was out on the left wing, received a strong ball for Sam Lowndes, she deflected it past the goalie.
Sam was among the action. He passed the ball to Ethan Thompson, whose shot waskicked out by the Mooroopna goalie into Sam's path and he capitalized with another goal.
EMHC 5-1 winners, goal scorers were Sam Lowndes (four) and Leah Kerr.
Umpire votes went to Sam Lowndes, Ethan Thompson and Elyse Kerr.
The under 16 team came out strong against Mooroopna.
Putting their first score on the board within the first five minutes after an excellent pass from Jenna park to Jonathan Morphett, Jenna received the ball back, she found Courtney Thompson at the top of the circle, with no clear shot Courtney passed to Jonathan who scored.
EMHC fullback Tom Morphett ran the length of the field with the ball on his stick.
Sam Lowndes found Tess Harvey were waiting at the top of the circle. Tess got a quick pass to Courtney Thompson and her shot was kept out by the Mooroopna goalie.
EMHC got two more goals before half time, Tayden Monigatti scoring with a strong short corner conversion and a brilliant field goal by Ryan Thomson.
With a 3-0 lead at half time, there was no respite for the Mooroopna defence as Ryan Thomson added to his total with another field goal.
EMHC continued to show their domination of the game and earnt a short corner.
Tom Morphett stepped up to take the shot. His ball was stopped on the line by the oppositions foot which drew a penalty stroke.
Tom didn't waiver and flicked it past the goalie.
Amber King-Gee moved out of Echuca's defence and had a run on the wing, supported by Hannah Greenman in half back.
With just minutes to go Courtney Thompson's persistence paid off, receiving a well-placed ball from Ryan Thomson in front of the goal keeper, she eliminated the goalie with ease and slotted into the nets behind him.
Echuca Moama took the win 6-0 against Mooroopna with goal scorers Ryan Thomson (two), Jonothan Morphett, Tom Morphett, Tayden Monigatti and Courtney Thompson.
Umpires votes went to Ryan Thomson, Amber King-Gee and Jenna Park.
B Women Kyabram Echuca Rats lined up against a determined SYC in blustery conditions on Saturday afternoon.
The Rats had most of the play early, with Jenna Park and Elyse Kerr combining well to feed the ball down the wing into the Rats attacking circle.
Despite many determined shots the girls couldn't get it past the SYC goalie.
The Rats were awarded a few early corners but couldn't convert these opportunities.
Late in the first half SYC mounted a determined attack and despite strong defence from Alexia Kell, Narelle Thomson and some committed dives from goal keeper Ruth Mackenzie, SYC were still able to sneak one in.
The Rats left the field down by one at half time.
The girls marched back out for the second half determined to get one the board.
A change of ends meant the wind and sun played havoc on the Rats game.
Despite the tricky conditions, some clever passing down the wing found Meaghan Whan at the top of the circle. Meaghan wasted no time and smashed the ball past the SYC keeper to level the scores.
Unfortunately, the Rats began to tire, SYC were given far too much ground and despite strong defence from Haylee Greenman and Ruth Goode, SYC were able to score again.
SYC took the win 2-1 in a tight match.
Votes went to Haylee Greenman, Jenna Park and Alexia Kell.
The goal scorer was Meaghan Whan.
B Men were able to maintain a 2-1 win against SYC.
Putting them on top of the point ladder with 4 wins out of 5 for the season.
A Women took on ladder leaders Mooroopna.
Starting strong with a good mix of experienced players and excelling youth, the EMHC side took the lead early with Keeley Thompson scoring and was well supported by Kari Gulson and Jorgie Wright.
The Rats dominated strongly in their attack with strikers Abbey Mathers, Courtney Thompson and Keeley Thompson running rings around the experienced Mooroopna defence.
Whilst the final winning score line 5-1 showed total Echuca dominance the Mooroopna attack did press EMHC back line of Sally Deeds and Wendy Mcleod but they remained strong.
Goal scorers Keeley Thompson (three), Courtney Thompson and Abbey Mathers, umpire votes went to Jorgie Wright, Keeley Thompson and Kari Gulson.
A Men finished the day in Shepparton on Saturday on high with a 6-0 win also against Mooroopna.
Goal scorers were Cameron Kenley (3), Matthew Mcdonald, Ashley Phipps and Clayton Thompson.
This mix of scorers shows the diversity of the Echuca side that has many years of experience while bringing up the youth into it's higher ranks.
Votes went to Clayton Thompson, Juancho Mackenzie and Regan More.
The GVHA ladder after round five sits favorably for most of the EMHC sides.
All juniors sides and B Men sitting in the leader's position, A Men and A Women sitting second on the ladder with B Women in 4th position.
This weekend is a general bye and junior GVHA sides travel to Melbourne to play in the Junior Country Championships.
Echuca Moama Hockey Club have many junior representatives heading away in all age groups U13, U15 and U17.
This competition gives our juniors an experience of playing higher level of competition, experience different coaching and also being able to play in all girl and all boys teams.
EMHC representatives are Thomas Kerr, Thomas Morphett, Courtney Thompson, Tayden Monigatti, Haylee Greenman, Keeley Thompson, Hannah Greenman, Ben Weir, Chloe Kell, Scott Park, Ethan Thompson, Olivia Mathers, Leah Kerr, Tess Harvey, William Kerr, Jye Berryman, Lucas Kell, Sam Lowndes and Jenna Park.