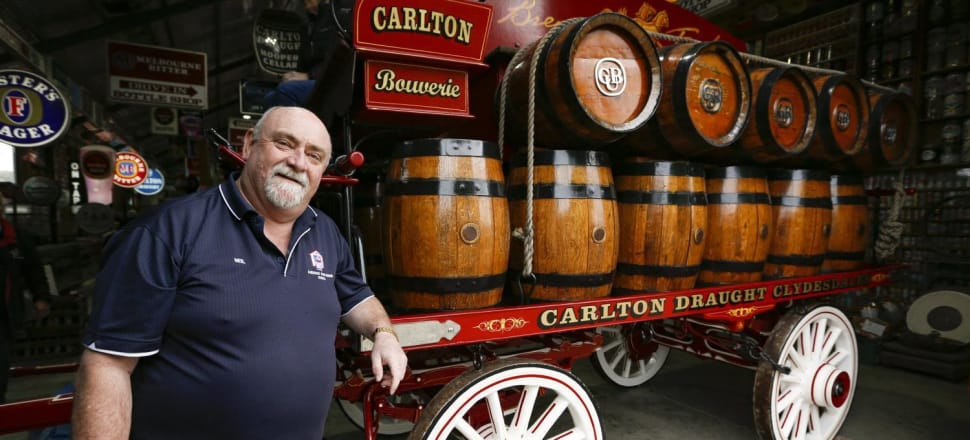 5370537724001
THE Great Aussie Beer Shed and Heritage Farm Museum received a piece of Aussie drinking history when the Carlton United Breweries (CUB) Clydesdale wagon rolled into town.
The wagon, which is on a permanent loan to the museum, is known as Bouverie after the street at the front of the original Carlton Brewery.
It is the oldest in the CUB fleet and has joined other items including more than 17,000 beer cans from Australia and around the world and other interesting items including tap tops, handles, barrels, bottles, signs and brewery manufacturing equipment.
The wagon has appeared in advertising for the brewery including the Royal Melbourne Show, the AFL Grand Final and the Moomba Festival.
And it is no stranger to Echuca, having previously visited our town to promote the Echuca races.
In presenting the wagon to the museum, representatives from the brewery said they were pleased to send the wagon to what they considered the premier beer and brewery museum in Australia.
Museum owner Neil Thomas said the wagon was already generating a lot of interest on social media and he hoped it would mean more people visiting Echuca.
"The original wagon is from the 1940s and it was refurbished two-years-ago, so it's in mint condition," he said.
"We're very excited and honoured to be the custodians of the wagon. Having it is recognition that we have a great tourist attraction for people to check out.
"Our next plan is to source some acrylic Clydesdales from Billabong Ranch to put with the wagon and complete the picture."