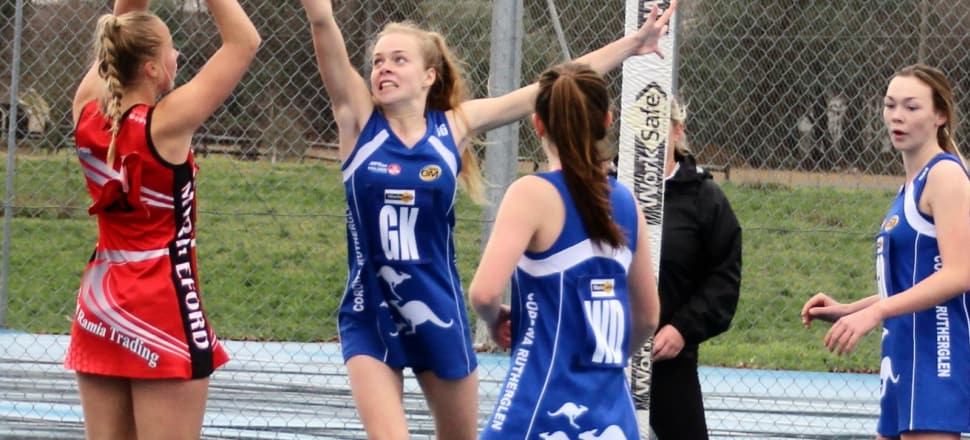 5370537724001
A Grade
Corowa Rutherglen 40 def Myrtleford 27
A good win in testing conditions. Myrtleford brought all to the game, crap weather, plenty of contact and a log of yap. Well done to our girls for staying calm, collected and hitting them where it hurts - on the scoreboard.
Awards: Sullivans Hair & Beauty & Club 2 - Steph Clancy - great contest of the ball, hit your individual goals. Club 1 - Ella Kingston - best game of the year Ella, full of confidence, great deliverance of the ball and driving to create space.
Origin Clothing - Liv Sinclair - worked solidly all game, applying plenty of defensive pressure and support to the attack end.
Ladies Committee - Zoe McLeish - great adjusting and staying focused, great shooting and positivity, such a reliable bookend.
B Grade
Corowa Rutherglen 34 def by Myrtleford 42
Cold wet conditions matched our consistency throughout the game on the day.
Some great positive play in patches but the Myrtleford girls were a physical presence throughout the game. One to take to the drawing board. We will be out to prove ourselves next week.
Awards: Sullivans Hair & Beauty & Club 2 - Jess King - a composed game from Jess working the ball in and shooting goals from all over the circle, great timing and tuned in all game.
Club 1 - Rosie Dye - a great target under the ring, adjusting and holding well as the ball approached the ring, a great force in the attack end. Origin Clothing - Grace Kingston - the heart of the attack end, Grace adjusted to the conditions and brought a sense of calm with her timing, direct leads and accurate feeds into the attackers. Ladies Committee - Georgie Bruce - a solid game, applying constant pressure through the midcourt and setting up defensive turnovers with tight play and constant talk.
C Grade
Corowa Rutherglen 33 def by Myrtleford 36
A slow first quarter for the C grade girls saw Myrtleford take the lead early, but from the start of the second quarter the girls stepped up their game increasing the intensity, pressure and talk on the court. By far one of their best games and every single girl played a great game and encouraged each other till the end. A fantastic game girls only going down by three.
Awards: Sullivans Hair & Beauty - Grace Hanrahan, Cub 1 - Carlie Smith, Club 2 - Erin Allen, Essential Beauty - Bec Kuschert, Ladies Committee - Emma Sinclair.
Under 16
Corowa Rutherglen 30 def Myrtleford 24
A great team effort to come away with our first win. Everyone played really well and our passages of play down the court were what made us win. Zali Spencer was very solid in the centre court, while Ella Morley was a rock in defence. Great win.
Awards: Sullivans Hair & Beauty * Club 2 - Ella Morley, Club 1 - Zali Spencer, Sportspower - Sophie Schulz, Ladies Committee - Brooke Ferwerda.
A big thank you to Border Natural Therapies for their weekly award which we give to a player that is training well or showing great team work, attitude and positive club contribution.