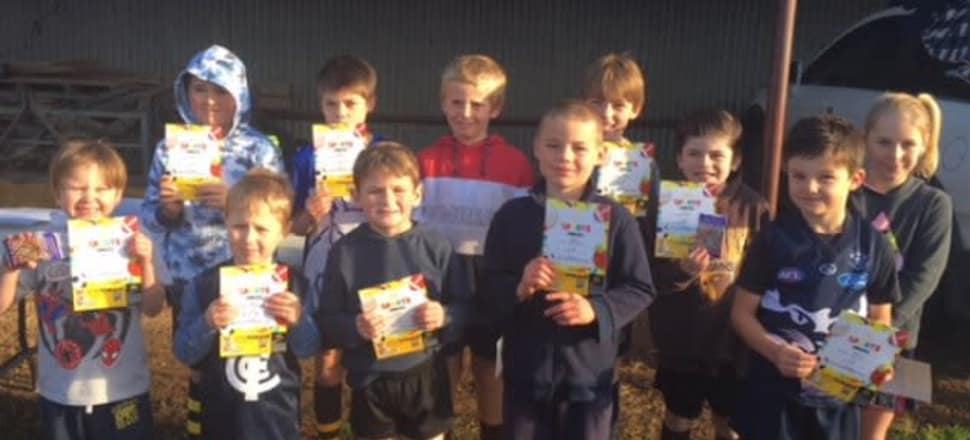 5370537724001
This week saw the Auskickers kicking the ice off the ground and vaguely feeling the warmth of the sun as it came out.
From all the activity you would not have believed that it was so cold.
The number of volunteers helping the coaches was up and everyone was grateful for the assistance.
The 5/6s had a session full of running, bouncing and kicking the ball, which kept them all on their toes.
There was a lot of great sportsmanship again this week, with players sharing the ball and allowing opponents an opportunity to get a touch and even a goal at times. Well done everyone.
Next week, is the first of the focus sessions, with everyone focusing on kicking. Each player is to bring their football and someone to kick with. The drop punt is one of the skills we use the most in football, yet it can be one of the hardest skills to get right.
Awards for this week:
5/6 year olds Tigers: goals Alarna Button, Seth Vance, Ryan Lindsay, Bentley Parker, Alby Dickinson; Award: Seth Vance
Bulldogs: goals Ryder Borg, Thomas Doig; Award Brandon Campbell
Red Rebels: goals: Liam Bridges, Lochie Johnson, Oliver Shultz, Rheiff Nicholson: Award Liam Bridges
Demons: goals: Caleb Thwaites, Sonny Nolen, Award: Sonny Nolen
7/8 year olds Magpies: goals- Cash Nolen, Levi Crisp, Xavier Defazio, Ryder Humphries, Harrison Skeleton, Bill Tapim, Georgia Threthowan. Award Cash Nolen
Cats: goals: Riley McCarthy, Boden Hazell, Luke Boulton, Eli Brandellero. Award Luke Boulton
Tigers goals: Tom Mount, Kobi Thwaites. Award: Tom Mount
Hawks goals: David Goldsmith, Angus Hayes, Dylan Henshaw, Thomas Grace, Will Martin, Cael Johnson, Angus Leavold. Award: Thomas Grace
Kangas goals: Charlie Bowen, Ethan Damon, Amy Lowe, Nicholas White, Angus Woodward, Ryan White, Noah Damon. Award Noah Damon.
Bombers goals: Jakob Campbell, Taj Upston, Mitchell Murphy, Jed Dickinson, Elijah Kerss, Kobe Rawlings. Award: Elijah Kerss
9/10's Hawks goals: Archie Sevens, Jet Russell, Liam Fielding, Xavier Rhodes. Award: Declan Campbell
Kangas goals: Seth Duggan, Jai Nolen, Logan Hyland, Josh Mathieson, Xavier Wapling. Award Max Harman
Bombers goals: Oscar Beaton, Ryder Levy, Jaxson Hussell, James Wilkinson, Max Beaton, Lucas Ham. Award: James Wilkinson
Bulldogs goals: Sam Gates, Archie Stanford. Award Archie Stanford.
Cats goals: Caleb Puttyfoot, Mitchell Cooney, Award William Keen.
Tigers goals: Ryan Hopgood, Ryder Robertson, Christian Squires, Braedon Blackford. Award Hunter Nicholson.