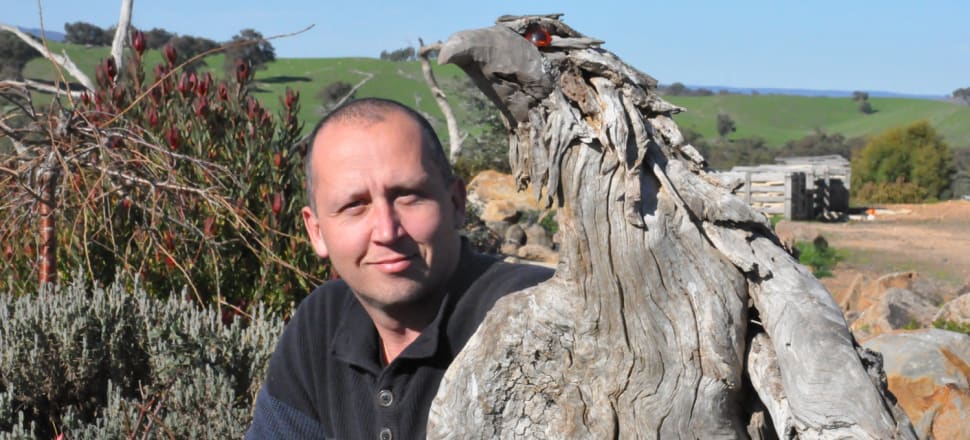 5370537724001
Glenaroua's Chris Anderson stumbled upon an award-winning hobby while trying to figure out the perfect anniversary gift.
The 44-year-old recently picked up the People's Choice Award at the Melbourne International Flower and Garden Show for his wooden eagle sculpture.
Chris never saw himself as a ''diamonds guy'' and was at a loss about what to give his wife for their 20th anniversary.
But inspiration struck when he was rustling amongst the woodheap.
Chris saw a piece of wood that looked like the beak of an eagle and slowly began crafting what would become Erin the wedge-tailed eagle.
Made from pieces of drop wood, Chris can be found sifting through hundreds of small bits of wood on the floor of his workshop to make a sculpture.
To achieve a natural look and feel, Chris doesn't use a machine for any of the wood that goes into his pieces, making it an extremely time-consuming process.
''Outside a bit of art when I was younger, I've never done a lot of sculpting,'' Chris said.
''I moved away from art as I got older but got back into it when my career with the Department of Defence was interrupted by illness.
''The sculpting has helped me to get moving again and gets me out of bed.''
Chris said he was surprised to pick up the people's choice award and was pleased to be able to say he has claimed first prize in all competitions he has entered in his short sculpting career.
''It's not something I'm doing for awards, but the positive feedback and recognition has been great motivation to keep going,'' he said.
''The weird part about it is the approval I seem to get from the local wildlife. When I finish an eagle and put it on the lawn to take a photo, within 30 minutes an eagle is flying overhead to check it out.
''It's a strange thing but I love that both humans and animals are admiring my work.''
Chris said his long-term goal was to share his art with more people by establishing the Glenaroua Garden Gallery.
''I live in a great part of the world that I think more people should see,'' he said.
''I plan to set up a walk on my property for the public that showcases some sculptures and the nature around these parts.
''I'm not quite in a position to do that yet but it's something I hope to have up and running later this year.''