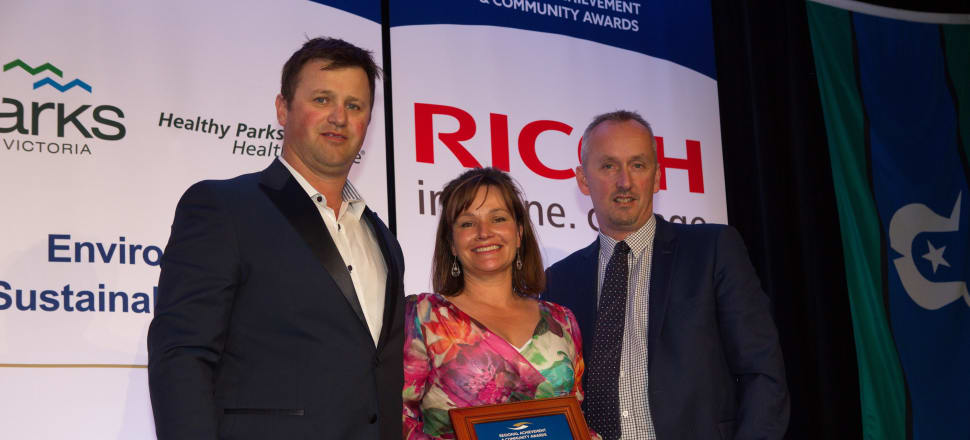 5370537724001
Rich Glen's fine customer service was recognized at the 2018 Victorian Regional Achievement and Community Awards in Melbourne recently.
Rich Glen Olive Estate was presented as a finalist in the prestigious Ricoh Australia Customer Service Award on Friday, October 26.
The award was presented to Damien and Ros Vodusek by Brian Wood, National Sales Manager, Ricoh Australia at the awards gala presentation which was held at the Flemington Race Course's Event Centre in front of almost 400 guests from across the State including official guest; Danielle Green, Parliamentary Secretary for Regional Development and Tourism, representing The Hon Jaala Pulford MP, Minister for Regional Development, Minister for Agriculture, to celebrate regional Victoria's high achievers.
The judges' comments recognized Rich Glen Olive Estate as the number one tourist attraction in Yarrawonga as indicated on TripAdvisor. It is a mecca for delicious fresh, organic food and home-grown olive oil products. They maintain quality customer service with staff inductions giving clear direction of the estates high expectations and quality control. They measure staff performance, monitor social media posts, respond to enquiries promptly and take feedback seriously. The Estate is winner of several prestigious awards for excellence in food tourism.
The Mansfield Armchair Cinema was the eventual winner of the Ricoh Australia Customer Service Award.