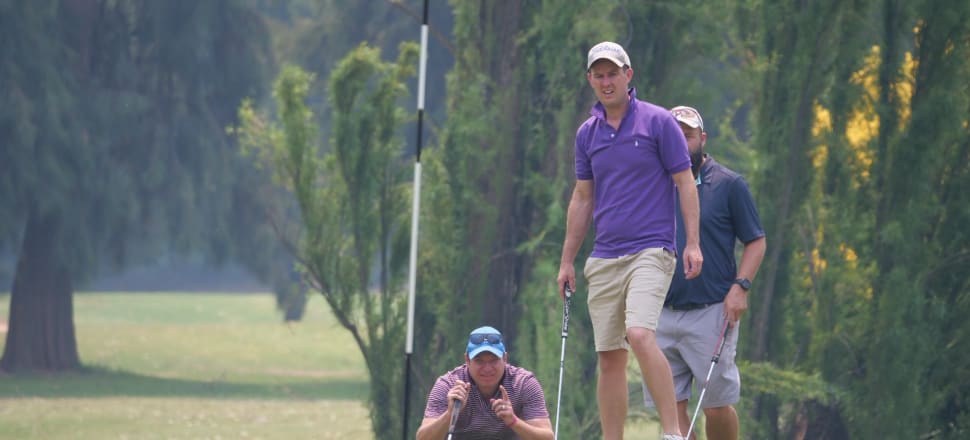 5370537724001
The eighth annual Marcus Fraser Classic last weekend with two big fields on both days was spoken in glowing terms by chief organiser Shaun Whitechurch.
"It was sensational," he said. "Everything was great. There were 450-plus golfers. The course was great."
There was a 15-minute hold-up to the hit-off time on Saturday due to Friday night's storm bringing down a tree on the 17th hole.
But that didn't dint the feelings of any golfer, particularly because of the ongoing far more serious weather conditions and result elsewhere in Australia including north east Victoria.
A local team comprising Craig Scown and Matt Goodall from Corowa, and Rutherglen's Scott Thomson on a team handicap of 9.6 recorded the best overall 36-hole score of 120.8. The ecstatic team members won wonderful golf clubs from major sponsor Mizuno.
Many other excellent scores were registered. The night before, the line-up of special speakers was great according to all, including the organiser, who specifically mentioned some outstanding speakers visiting Corowa. "Champion jockey Greg Hall was excellent.
"He had one lady in tears. Barry Michael (champion boxer) was excellent. But it was interesting hearing all the speakers tell of their journeys and answer questions.
"Barry Michael caught up with Jimmy Brown, a Corowa resident for over 40 years. Jimmy was the only Aussie to beat Barry Michael twice. Jimmy fought Barry for the Australian title and it was judged a technical draw.
"The rematch saw Barry win on points after 15 rounds to be awarded the Australian champion. What a night they had last Saturday!"
Most significantly, the sporting memorabilia auction Saturday raised about $2,000 to help Corowa Golf Club.
Club Chief Executive Officer Daniel Peacock said he was extremely happy with the numbers of golfers and the overall support again for the big event, "especially given the testing conditions being experienced".
"The numbers were slightly down but the organisation of 'Magro' and the support from the Fraser family for this iconic event were marvellous," the CEO said.
Mr Peacock was also full of praise for the condition of the course, managed so well by course superintendent Trent Vonarx and his team.
"They did a great, absolutely phenomenal job in very tough times," Mr Peacock said. "In fact, some golfers said they had never seen the course in better condition. Our greenskeepers were fantastic."