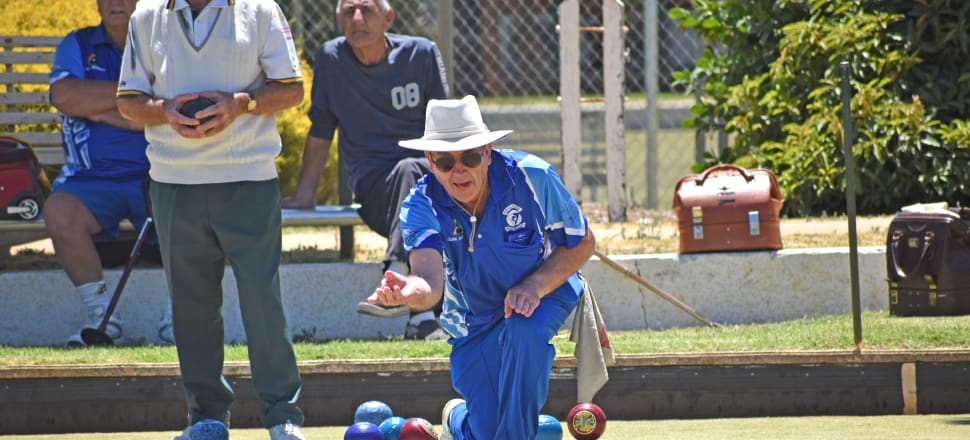 5370537724001
Deniliquin Bowling Club's Division Five continued their dominance of the Campaspe Valley Bowls Division, cementing their spot in finals with a 27 shot win on Saturday.
Deni were impressive on their home greens, defeating Tongala 60 to 33 to remain on top of the ladder with an 8-1 win-loss record.
Alan Hardcastle's team of Jeff Rose, William Young and Ian Chessells scored a 'six' on the third end to lead 9-1.
They continued piling on the shots to run out 16 shot winners.
Final score, Deni 35 to Tongala 19.
Skipper Mike Donohue and his team of Tony Smith, Clarrie Cameron and Sheena Wubbels recorded a solid 11 shot victory after scoring 11 shots to four over the last 10 ends.
Final score, Deni 25 to Tongala 14.
Division One were also at home to ladder leader Tongala and went down 75 to 66.
Deniliquin were leading by 11 shots at the break, due to quick starts by Stefan Truelsen and Jamie Shields' teams.
However the could not maintain the advantage and finally went down overall by nine shots.
Stefan Truelsen had his team of Peter Chadderton, Shane Laing and Rob Morris firing early, leading 10-nil after four ends, before extending their lead to 20-8 after 12 ends.
Deni were outscored 16 shots to seven after the break, but held on to a three shot win.
Final score, Deni 27 to Tongala 24.
The opposite could be said for the team skipped by Simon Chisolm.
Chisolm, John Flisher, Lindsay Franklin and Tony Scoullar started slowly, trailing 18-7 after 13 ends.
They managed to match with Tongala in the second half, with both sides scoring 11 shots against the visiting side's strongest rink, going down by 11 shots.
Final score, Tongala 29 to Deni 18.
The final rink of Jamie Shields (s), David Hessell, Russell Douglas and Steve King led early before being level at 21-all on the penultimate end.
Unfortunately it was Tongala who scored a one shot win on the final end to hand a one shot loss to Deni.
Final score, Tongala 22 to Deni 21.
Division Two traveled to Tongala and recorded an emphatic 38 shot win, 92 to 54.
Skipper Linda Harris with Raymond Hay, Winnie Pattinson and debutante Larry Seely were no match for Tongala's top side, losing by 17 shots.
Final score, Tongala 31 to Deni 14.
On rink four, a brilliant team effort by Steve O'Brien (s), Lee Hillier, Keith Plattfuss and Mark Tasker saw them run away as easy 27 shot winners.
Final score, Deni 35 to Tongala 8.
Skipper Lloyd Ritchie complemented a strong team effort to record a solid 27 shot win.
Lead Toni Brooksby was outstanding, as was second Graeme Nisbet and third Paul Snare.
Final score, Deni 42 to Tongala 15.
Division Three scored a crucial win at home against Elmore, holding on for a seven shot victory, 71 to 64.
Deni were strengthened by the return of Bryan Kemnitz (s) and Stuart Treble, with the pair teaming with Col and Andrew Knuckey to secure a 12 shot win.
Final score, Deni 25 to Elmore 13.
On rink seven, skipper Tony Danckert's team bowled consistently to win by eight shots.
Lead Maxine Norton continued her solid season and was ably supported by Lee Pattinson and Tony King.
Final score, Deni 29 to Elmore 21.
The final game saw the revamped team of Tom Todd (s), Ray Anderson, Glenn Thomson and Noel Murray struggle all day in a 13 shot loss.
Final score, Elmore 30 to Deni 17.
After the weekend, Deniliquin Bowling Club now have three of their four teams in final contention.