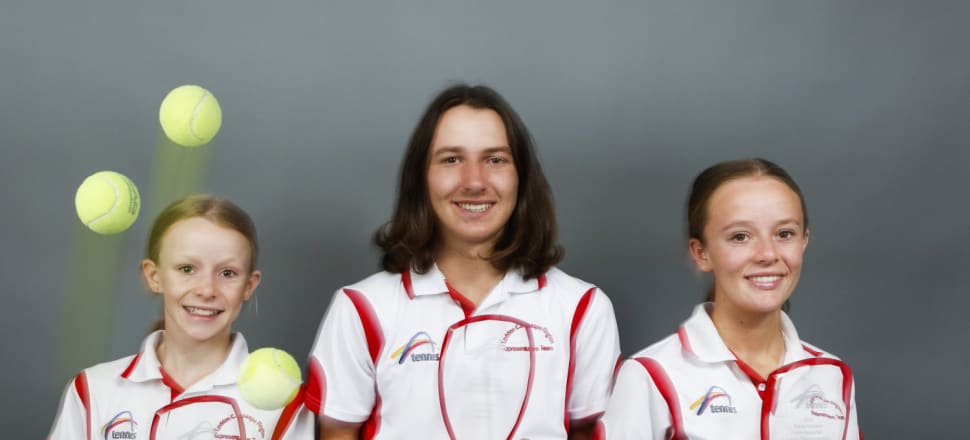 5370537724001
TO CLAIM even one tournament win at a major event is a big moment for a young tennis player.
But to claim three is perfection.
This was the case for three local athletes at the 64th Tennis Victoria Inter-Regional Country Championships.
Rich River players Josh Bavich, Daphne and Isabella Crossman all claimed their age group singles, doubles and mixed doubles trophies as members of the Loddon Campaspe team at the tournament.
The team of Bavich and Daphne Crossman flew through the 16 and under mixed doubles tournament, dropping just three games in their three matches to take out the title against Curtis Fitzgerald and Jordyn Aitken.
Bavich completed a dominant run to the 16 and under boys title, not dropping a set as the one-seed of the tournament.
Byed through the first round, he easily made it through to the final, where he accounted for Aaron Niglia 6-4, 6-0.
Teaming with Mitchell Dodos, Bavich would win all his team's matches in strong fashion in the 16 and under doubles, only once losing more than two games in the round robin format.
Crossman would see her own success in the 16 and under girls events.
Not carrying a seeding, and as a result not receiving a first round bye, she easily accounted for her opening two opponents, before running into a challenge in her semi final.
Winning the first set 6-3, she was forced to a tie-breaker in the second against three-seed Anna Franklin, though would prevail 7-6(5) to advance.
Crossman dropped the opening set of the final to one-seed Tiahna Leader, before winning the second 6-2 to force a third, which she would claim 10-7 to take the trophy.
The final duo would then unite to take on the doubles tournament, which they would pass through undefeated to complete a second triple crown for the local players.
In the 14 and under category, Isabella Crossman added more silverware to her ever expanding trophy cabinet with a trifecta of her own.
Carrying the two-seed and a first round bye, Crossman would produce three matches of near perfect tennis, dropping just one game for the entire competition.
It came in her semi final, setting up a clash with one-seed Milla Fraser, who she easily accounted for 6-0, 6-0.
Crossman would then team with Natasha Dodos in the doubles, with the team holding the two-seed and being placed in group B for a round robin.
The duo would fly through their three matches without dropping a game, before defeating one-seeds Milla Fraser and Jenna Gleeson 6-2 in the final.
Teaming with Zach Ranson in the mixed doubles, Crossman made it three for three.
The one seeds would again drop just one game en route to the win in the final against Logan Casey and Tahlia Thompson.